Worm Factory - Worm Bins
These bins are a simple and easy way to manage your worm farm. The tray system makes harvesting castings effortless. No more seperating worms from castings for hours!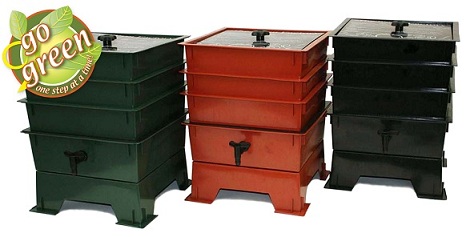 Here are some of the key features of these worm bins:
Year-round production
Includes worm bedding kit to help get you started
Odor Free operation
Available in three, four and five tray options
Expandable up to 7 trays
Available in black, green and terracotta
Easy to assemble and manage
Built in "worm tea" collector tray and spigot
Easy-to-use instructional booklet
5 year warranty on parts and workmanship
Made in the U.S.A. from post-consumer recycled materials
This worm bin is an upward migration worm composting system for home use. This means that you fill the bottom tray first and work your way up. The worms will migrate upward through the trays (have screened bottoms). Once the worms finish with the bottom tray, you can just take it out and use the castings in your garden, no more seperating out the worms! Comes with spout on bottom of the collection tray to drain and use the Compost Tea.
We recommend you start with 2 lbs. of Red worms or European Nightcrawlers with these worm bins, but they can handle up to 8 - 10 lbs!
**We sell 3,4, and 5 tray bins. Go to the Worm Supplies page to order now!