Red Worms
Description
These worms are eisenia fetida, also known as red wigglers or red worms. They are great for composting and can eat half their weight a day in food. They will take your table scraps and turn them into great compost for your garden and plants. These are bedrun which means they come in all different sizes. There will be some adult breeders as well as juveniles and cocoons.
We weigh the worms first then add a bunch of bedding into a breathable bag and ship them to you fast! We are expert worm farmers and are willing to answer any questions our customers have about raising them. These worms are also great for fishing, but be aware that they are not nearly as large as the night crawlers you may buy at the bait shop. These worms are the perfect size for most fishermen(no cutting worms in half).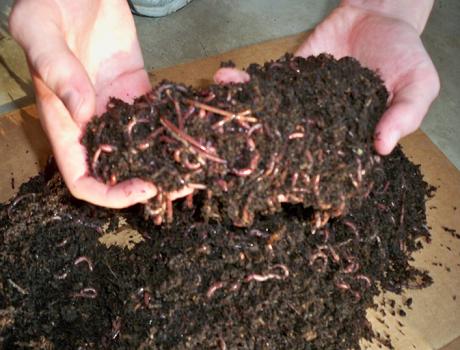 Need fishing worms?
European Nightcrawlers, aka "Jumbo Reds" are a much better choice then the regular red worms which can otherwise be too small.


Looking for the best composting worms?
You've found them! The red worms are the best worm for the job! See below for pricing.
Red Worms for Sale

Quantity

Shipping
Total Price
Add to Cart
1 lb.
(Approx 1,000 worms)

$11.00


FREE!
$29.95
2 lbs.


$11.00


FREE!
$45.95
3 lbs.


$11.00


FREE!
$62.95
4 lbs.


$15.00


FREE!
$79.95
5 lbs.


$15.00


FREE!
$94.95